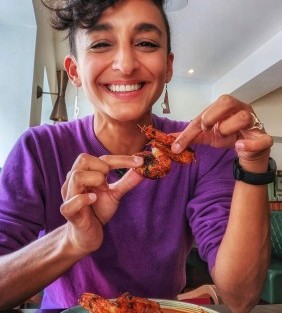 Leyla Kazim is a presenter, broadcaster and journalist specialising in travel and food. She is a critic on BBC One's Masterchef: The Professionals & A Presenter on BBC Radio 4's award-winning weekly show The Food Programme, now in its 40th year. Leyla is also a judge on the prestigious annual BBC Food & Farming Awards.
She travels to eat. Inspired by the exceptional Turkish Cypriot and Mauritian cooking she was brought up with, Leyla spent the best part of 2015 on one big trip eating her way around the world. She drew on her catalogue of culinary experiences to co-create Lonely Planet's book: The Ultimate Eatlist, The World's Top 500 Food Experiences.
Leyla's interests and expertise lie in food, travel and celebrating the beauty and diversity of the natural world in the UK and beyond, as well as sustainability, permaculture, farming and food production, food preservation and food cultures and traditions.
She shares her global stories through a number of online and print publications and social media platforms. You can find Leyla on her Instagram, Twitter, Facebook, YouTube, TikTok and blog.