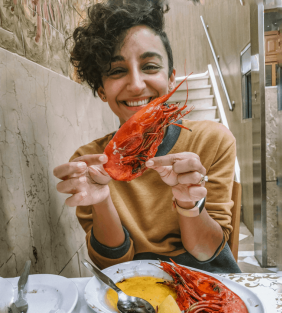 Leyla will be hosting...

Leyla Kazim is a London-based presenter, broadcaster, journalist, speaker, reporter and digital creator, and the founder and person behind the authoritative travel and food brand, The Cutlery Chronicles. She is part of the core presenting team on BBC Radio 4's award-winning The Food Programme, now in its 40th year, as well as a judge for the prestigious annual BBC Food & Farming Awards. Leyla comes from a science education with an Astrophysics BSc from University College London (UCL) and has a mixed-heritage Cypriot and Mauritian background.
She travels to eat. Inspired by the exceptional Mediterranean and Indian Ocean cooking she was brought up with, Leyla spent the best part of 2015 on one big trip, eating her way around the world. She drew on her catalogue of culinary experiences to co-create Lonely Planet's book: The Ultimate Eatlist, The World's Top 500 Food Experiences (2018).
As an avid vegetable grower - and keen to get as many people as possible having a go at growing their own - in January 2021 Leyla launched #PotToPickle across her social channels. A series of grow-a-long, back-to-basics video tutorials for the novice urban vegetable grower, the tutorials guide her audience through the entire growing season from seed sowing to food preservation. A great many people grew along!
Leyla's interests and expertise lie in food, travel and celebrating the beauty and diversity of the natural world in the UK and beyond, including the great outdoors, wildlife, conservation, gardening, sustainability, permaculture, farming and food production, food preservation, the arts, crafts, food cultures and traditions, restaurants and social history.
She shares her global stories through a number of online and print publications, her blog and social media platforms. You can find Leyla on her blog, Instagram, Twitter, Facebook, YouTube and TikTok.