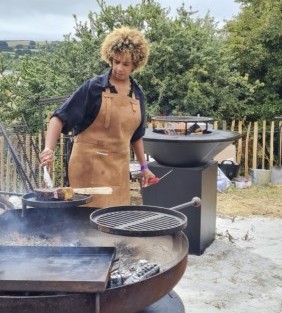 Melissa Thompson is an award-winning food writer and cook who started a supper club in her front room in 2014.
As a food writer, she has penned powerful articles on the British food industry that became focal points for important discussions around identity, diversity and inclusivity. In 2021, she won the Guild of Food Writers' Food Writing award.
Her debut cookbook, Motherland, is due out in September 2022, published by Bloomsbury. It explores the evolution of Jamaican food, from the island's indigenous population to today.
She has appeared on Saturday Kitchen and Radio 4's The Kitchen Cabinet, and is co-director of the British Library's Food Season, and has chaired discussions for the event previously.
She is a columnist for BBC Good Food magazine and has written articles and recipes for a range of publications for The Guardian, Conde Nast Traveller, Stylist, Vittles, Waitrose Weekend, Waitrose Magazine and others.
A former feature writer on a national newspaper, in 2015 Melissa left newspaper journalism to pursue her love of cooking, with the supper club growing into a sell-out pop out across locations in London
Born in Dorset to a Jamaican father and Maltese mother, her food has always celebrated cuisines from around the world. She is passionate about flavour, provenance and respecting food cultures.